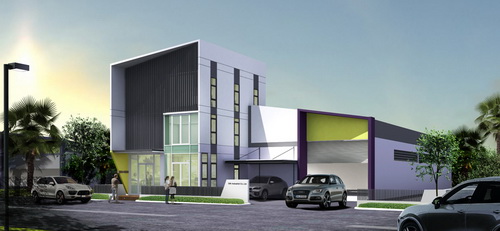 TDS Technology (Thailand)
Our committed team of sales and marketing engineers, coupled with their extensive experience and broad application know-how, always strive to provide excellent service & feasible solutions to our valued Customers. Our people are consistently trained & updated with product knowledge to be of competent service to our customers from needs definition, products specification, solutions offering to prompt delivery of goods/service and after-sales support. With our expertise, we are certainly capable to offer the RIGHT PRODUCT at the RIGHT PRICE to the RIGHT CUSTOMERS for the benefits of the industry and community.
Bringing together leading brands you know and trust, we supply a comprehensive range of advanced industrial control and factory automation products to various manufacturing industries, namely the factory automation & the process industries. Our range of high-end technology products and systems from leading brands, such as PC-Based Control products, Industrial PCs, Fieldbus Components, Programmable Logic Motors, LCD Touch Panel and Monitors, Control Components such as Sensors, Inverters, Temperature Controller, Relays, Timers, Counters, Rotary Encoders, Signal Converters, Surge Suppressors, Modular Terminal Blocks, Elevator components etc, are widely used in Factory Automation, Marine and Offshore, Oil and Gas, Pharmaceutical, Water Waste and Treatment, Air and Land Transportation and Clean Energy.
Our dedicated and competent team of system application engineers, equipped with their extensive field experience in manufacturing industry and on-site know-how, are equally capable in delivering value-added system and engineering support and after-sales service to our valued Customer. On top of that, we also provide product training workshops regularly to our Customers as a value-added service.
| | |
| --- | --- |
| In 1996 | TDS Technology (S) Pte Ltd was established |
| In 1999-2000 | TDS achieved SME awards |
| In 2001 | TDS was certified with ISO9000 |
| In 2004 | TDS Technology setup subsidiary in Thailand, Bangkok, TDS Technology (Thailand) Co.,Ltd |
| In 2008 | TDS became one of the subsidiary of ISDN Holdings Singapore. |
| In 2009 | TDS sponsored 2 scholarship for ITE Tampines TDS setup 2 more subsidiaries in Malaysia, Kuala Lumpur and Penang, namely, TDS Technology (KL) Sdn Bhd and TDS Technology (Penang) Sdn Bhd.Same year in 2009, TDS setup its 4th subsidiary, ADL Control (S) Pte Ltd |
| In 2013 | TDS was certified with BizSafe 3 |
| In 2014 | TDS Technology (Thailand) Co.,Ltd. was certified with ISO9001:2008 |
| | TDS Technology (Thailand) Co.,Ltd. (Head office) move location to new building. |